The Digital Path. 2006.
THE VIEW FROM HERE
by Stephen Johnson
Color from the Real World Through Your Camera to Print
I've seen some online discussions lately about cameras, raw, color spaces and printing. So, I thought I would go through my best understanding of what is happening where, and why.
First of all, every camera has a fixed set of color capabilities, a range of light and color it can record from the real world. We can call this the camera's color space. This can be mapped by a Monochrometer, a spectral measuring device that can map a recording devices' color "vision." This is quite a different thing than profiles that come with your camera, or photographing even a pigment target like the X-rite ColorChecker, which although deeply useful, does not create a real characterization of how your camera sees, but rather how your camera sees the ColorChecker. Monochrometer derived profiles are generally not available for your camera.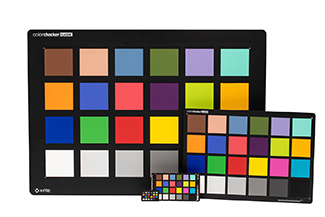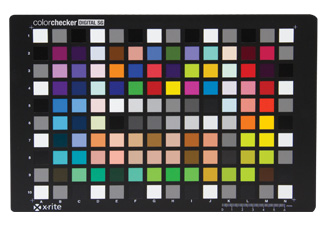 X-Rite ColorChecker (left) X-Rite ColorChecker SG (right)
I believe even the much more detailed and wider contrast range of the Digital ColorChecker SG cannot map how the camera can actually record the real world. There are people that disagree with me on this. There is even software that creates what are called Camera Profiles with standard ColorChecker and these expanded targets. There are a number of problems with these, not the least of which is that it is not really possible to construct a reflective target that maps the full range of what a camera encounters in the real world. These target-based profiles can be very useful in the limited and controlled lighting conditions of studio photography.
.A raw file from a camera should basically preserve the unprocessed camera color space at whatever bit depth the camera's Analog to Digital Converter is capable of (generally 12 to 14 bits in most cameras today). However, the minute we look at the file as an image in a raw processor like Adobe Camera Raw or Lightroom, we are interpreting that camera's raw color space into color derived from an interpretation map of how that camera recorded the ColorChecker. While viewing the file, we are operating in the raw processor's color space (in Camera Raw and Lightroom a linear ProPhotoRGB), and viewing our interpretive judgments through a monitor profile. Hopefully this is a wide gamut monitor (at least Adobe RGB capable) regularly calibrated with good hardware and software, such as X-Rite's i1 Profiler.
On the camera, despite photographing in a raw mode, you are NOT looking at the raw file on the camera's screen. You are looking at a processed file, normally a jpeg, created from the raw data passed through the Picture Settings (Canon), Picture Control (Nikon) or other such in-camera processing scripts. The camera histogram is also drawn from this jpeg file, not the raw data, which brings up an additional consideration on digital exposure I've discussed elsewhere and in the tutorial below.
In the raw processor, you are NOT looking at the raw file, you are viewing an interpretation of that data, subject to the camera starting point (often called profiles, but they are not) with all of the raw processor's presets modifying that interpretation.
As we move through an editing lesson, people do often ask to see the original raw file. But of course, you can never see the raw file, you are always seeing an interpretation. The raw file is basically an uninterpreted stream of data much like an undeveloped negative. It was recorded by an image recording device, and it has the potential to became an image, but only when "developed" into an interpreted file.
What people are generally asking for, as am I, is to see how their raw processing interpretation began in that particular raw processor, so that interpretive decisions, defaults and other image processing impositions can be examined and determined to be appropriate or not, and unwound and then re-interpreted into the desired result.
.
Once out of a raw processor, as a rendered image, generally a form of tiff, opened in Photoshop, or in a printing pipeline from Lightroom, Capture One or Apple's Aperture, the file is no longer in a raw state, it has been rendered into precise interpreted spectral values, synthesized pixels from the Bayer Pattern filter-set on most cameras, and from whatever bit depth the camera produced into either 8 or 16 bits of interpreted image data. Every color in the image now has real meaning, and is managed by software that understands those meanings and can convert them into useful images, whether on-screen or to a printer.
Photoshop is my place of choice to finish the editing of a photograph that a raw processor begins. It is my most trusted place for the rendering of the photograph's digital data onto the screen and to translate the color out to a printer.
Color Management:
A Method of Converting from One Set of Color Capabilities to Another
Overall, color management is simply a method of converting one set of color capabilities to another. Beginning with the camera converting the real world into its own ability to record what passed through the lens, to Raw interpreters converting camera data with our feedback (viewed through a monitor) into precisely rendered color in well defined color spaces (sRGB, Adobe RGB, ProPhoto RGB) and then on to a conversion of that now rendered color into what a particular printer can print.
Good Monitor Profiles
A photographer's absolute necessity starting point must be a hardware calibrated monitor, using at least a colorimeter measuring device and good profiling software. I am currently using X-rite's i1 Profiler Pro with the i1 Display Pro colorimeter.
In that software you should have to choose a color of white (for me 6500K), a brightness value (now usually 120cd/sq.m for most LCD screens) and a brightness curve known as gamma (now usually 2.2).
Printer Profiles
There are a lot of misconceptions that have grown up along this 20 year journey through color management. Some confusion comes from problems we once had no real solutions for, perhaps requiring work-arounds at one point, then invented around by the very core technology.
Out of gamut warnings and impulses to edit color to fit a printer is one of those outmoded workflows. There are many colors we can create in our cameras and through editing that do not exist on a printer. The job of printer color management is to convert (gamut map) with good printer profiles, those out of gamut colors into what the paper/printer/inkset/settings can print. You do not have to edit out-of-gamut color out of your photograph, it is the job of color management to convert image color into what the printer can print.
Of course, printer profiles are not perfect. Small errors in printing the targets and measuring the results can cause problems. Individual profile creation software packages vary in quality, and the table-based calculations can create their own color conversion errors. To a point, the more patches measured the better, multiple measurements reduce error, and iterative profile creation can hone in on inaccuracies and minimize them. I usually tell my students that a good printer/paper profile ought to get you 90-95% of the way toward an accurate print, with hand-tweaking the file often necessary to get the best print you can make.
Photographs and Text Copyright ©2014 by Stephen Johnson.
All Rights Reserved Worldwide
Please write if you would like a fully illustrated printed versin of this article. If there is sufficient interest, we will make them for $5 each.
please email your comments to us